Golden Bay Beaches
Golden Bay Beaches Offering Everybody Something
From child friendly beaches to surfing beaches or those with outstanding scenery, Golden Bay has them all.
Golden Bay Beaches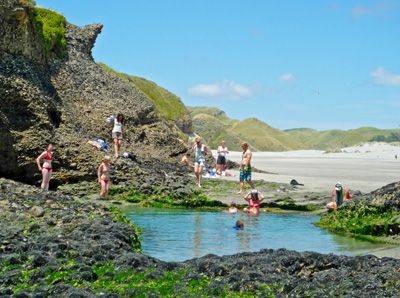 From Pohara in the east to Puponga in the west, there is a string of shallow, fine sand beaches, safe for the family with children.
To the east, Pohara has a warm, safe, sandy beach. Beyond Tarakohe you will discover truly golden beaches: ligar Bay, Tata Beach, Wainui.
The Abel Tasman National Park has much coarser sand. Tata Beach and Totaranui are popular with those wanting deeper water for water skiing but still in safe waters.
Wainui Bay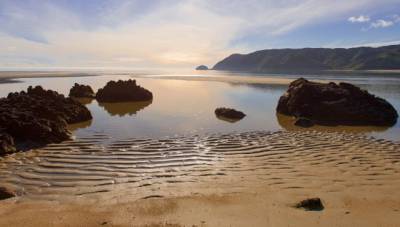 is a great beach to visit, exploring the rock formations and shady picnic spots. A favourite walk is at low tide to Taupo Point. Wainui is the western starting point of the Abel Tasman Coastal Track.