Golden Bay Beaches
Golden Bay Beaches
From child friendly beaches to surfing beaches or those with outstanding scenery, Golden Bay has them all.
Golden Bay Beaches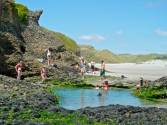 From Pohara in the east to Puponga in the west, there is a string of shallow, fine sand beaches, safe for the family with children.
To the east, Pohara has a warm, safe, sandy beach. Beyond Tarakohe you will discover truly golden beaches: ligar Bay, Tata Beach, Wainui.
The Abel Tasman National Park has much coarser sand. Tata Beach and Totaranui are popular with those wanting deeper water for water skiing but still in safe waters.
Pohara Beach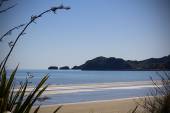 Pohara is one of the main holiday centres of the Bay with a beach that must rank among New Zealand's safest. It is also a popular centre for windsurfing and kayaking.
Ligar Bay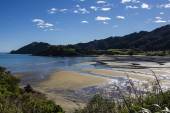 A few minute's drive from Pohara is Ligar Bay, resplendent with golden sand, barbecue areas, shady trees and great safe swimming at high tide.
Tata Beach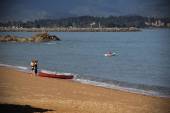 A few minute's drive from Pohara, Tata's water is a little colder than Pohara's but you can swim here at low tide. It is preferred by swimmer's who seek deeper water.
Pohara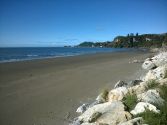 is the centre of this district, with cafes, bars and a shop for supplies. Swimming here is wonderful for children because the water is very shallow and warm. The beach is a favourite for long walks in the late afternoon.