Golden Bay Beaches
Golden Bay Beaches Offering Everybody Something
From child friendly beaches to surfing beaches or those with outstanding scenery, Golden Bay has them all.
Pōhara Beach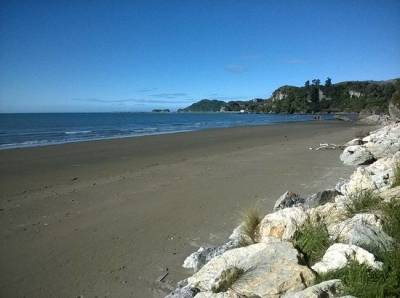 Pōhara is always a hit with its popular Top 10 Holiday Park, cafés and ice creams.The vast shallow tidal beach with soft sand is perfect for making sandcastles, walking your dog, and warm high-tide swims.
Ligar Bay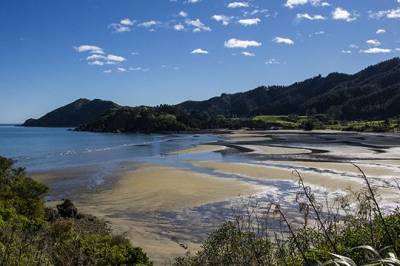 Ligar Bay is a shallow golden sand beach, one of the warmer swimming spots. At low tide your little ones can safely splash around in warm tidal pools or explore the rocks along the western end to find crabs. With several BBQ areas and no boating, Ligar Bay is a peaceful picnicking beach.
Tata Beach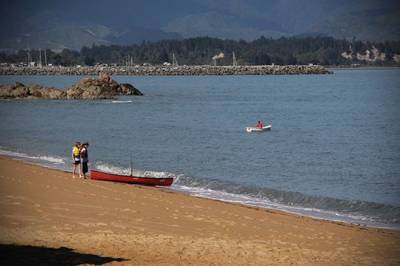 Tata Beach is a deeper beach for swimming at any time of day and is always radiant with its iconic yellow-gold sand. Tata is also home to a boat ramp, so is buzzing with boats and water sports in the height of summer.
Wainui Bay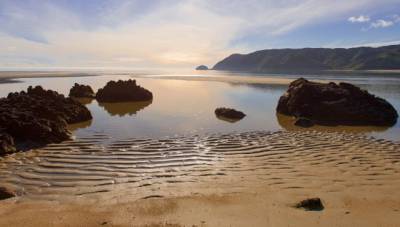 Wainui Bay marks the start of the Abel Tasman National Park and is bursting with beauty, also offering multiple walking tracks, including the short hikes to Wainui Falls, or out to Taupo Point.
Wharariki Beach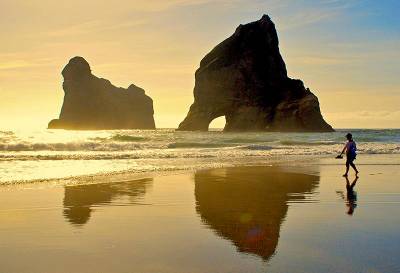 Wharariki is not a safe swimming beach, with its strong currents and wild seas. But it is a fantastic place to spend a day, running down the huge sand dunes, exploring the caves, and at the right time of year you can watch baby seals splashing in the rock pools.
Milnthorpe Scenic Reserve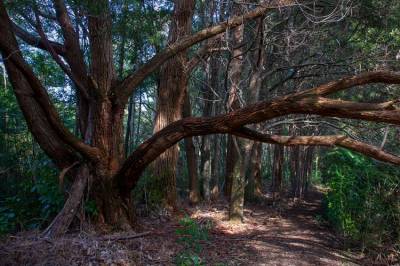 Easy walk, from 5 min to 3 hours.
Suitable for the whole family plus the dog (kept under control), there are multiple access points to these sprawling trails through regenerating forest, swamps and lagoons, all fringed by a peaceful beach and estuary. Pick up a map from one of the boxes, make a donation if you are able, and consider returning the map for others once you are finished. The tracks are mostly flat with a few rises and tree roots,they are not not suitable for wheelchairs or prams.
Tōtaranui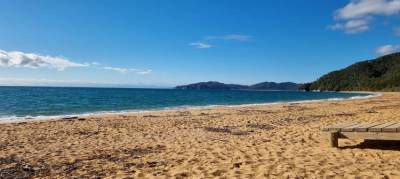 Tōtaranui is the end of the line, a deep golden sand beach with its own campground, and with a boat ramp is also a launching spot for those venturing further out.
Rangihaeata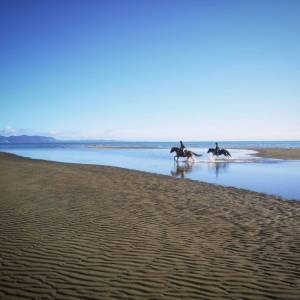 Rangihaeata, with its remnants of a kahikatea forest right on the beach, is wonderful for walking your dog at low tide.
Patons Rock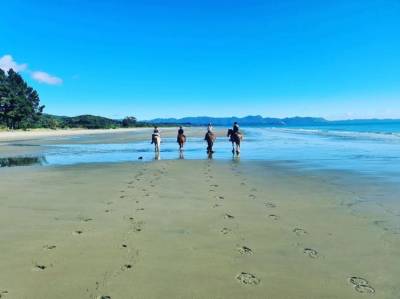 Patons Rock and Parapara are both small settlements with sweeping shallow beaches, perfect for a picnic with small children, easy swimming, or head out in a kayak for a paddle.
Onekaka Wharf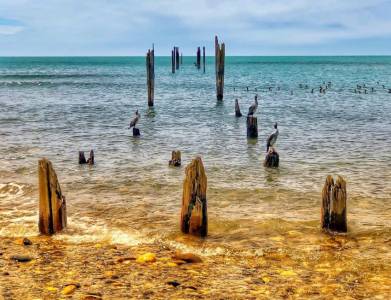 Onekaka Wharf can be found just past The Mussel Inn, an iconic eatery and live music venue where you must first stop for a local brew and bite to eat. Turn down Washbourn Road to reach what remains of the old wharf and tramline, remnants from Onekaka's ironworks in the 1920s.
Collingwood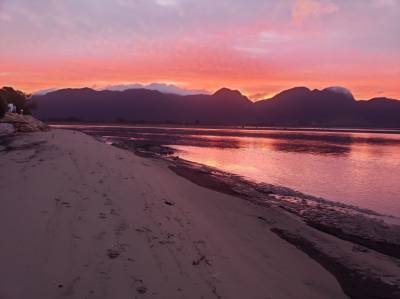 Collingwood is a historic little town where you can grab a bite to eat, visit all the local shops and galleries, and head down to the flat beach for a wander.
Puponga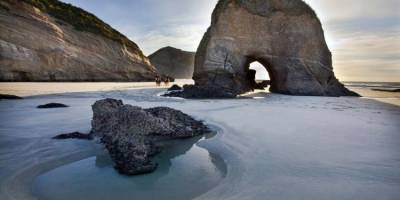 Puponga is almost as far as you can drive west, another flat tidal beach at the base of Farewell Spit, the longest natural sand spit in the world. However, the road carries on a bit further past Cape Farewell to one of the Bay's most spectacular beaches -- Wharariki Beach -- the northernmost point of the South Island.