Latest GB Weekly news

Latest GB Weekly news
Plus additional News Snippets
The GB Weekly is a family owned community newspaper, delivered free to every household and business in Golden Bay. We are blessed to have such a talented team of reporters, columnists and staff at the GB Weekly who are passionate about bringing you all the news from The Bay.
For the latest issue please follow this link - GB Weekly
News Snippet:
"Fridge library offers cool reads"
Commercial Street is now host to a new community library -- but with a twist. The library, housed in a repurposed fridge, lives between De-Lish cafe and the GB Arts Council premises.
The library idea was conceived several years ago by local dance teacher Ali Tylee "as a community collaborative project", and gained momentum recently when she saw a fridge on the GB Community Facebook page and secured permission to use the location. The concept is that "locals and travellers can freely exchange books," says Ali. Books and creative endeavors are welcome.
"Should you wish to contribute love letters, poetry or an inspirational message" there is a designated spot for these in the vegetable crisper (to ensure freshness).
The fridge has been decorated by local hairdresser and artist Sage Taylor. The sides are painted with blackboard paint, and there is chalk in the butter conditioner, ready for "anyone that would like to express themselves on the fridge".
There is reasonable turnover of the library content, and in the future Ali says: "I'd like to house collections that are themed, such as women's health or graphic novels". The fridge is a work in progress, with a new kids' section due to open in the freezer compartment shortly, and running repairs to ensure that the fridge remains watertight in wet and windy conditions.
It's a fun project for Ali and Sage, and they hope that it reflects "the Golden Bay vibe".
"It's meant to make you smile, have fun and play", they say.
Welcome to Golden Bay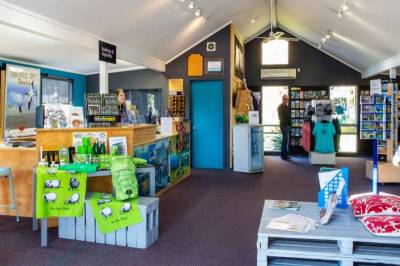 Golden Bay Visitor Centre, Willow St. , Takaka ph 03 5259136
Golden Bay is an extraordinary natural environment at the top of the South Island in New Zealand.
Golden Bay is New Zealand's most diverse and appealing holiday destination. Imagine a region with endless variety, where golden beaches, alpine valleys and tranquil fishing rivers share a close proximity with the sea.
Breathtaking scenery, arts and crafts, sporting activities. There's something for everyone.
Golden Bay is nestled into the South Island's north-west corner. A chain of steep and rugged mountains cuts its fertile river plains and valleys from the rest of the island.
Unless you're a migrating whale, you don't go past Golden Bay on your way to anywhere.
Golden Bay Visitor Centre Opening Hours :
Monday to Saturday 10:00am till 2:00pm
You have 24/7 access to brochures, maps, activities, providers of accommodation, food and transport outside the Visitor Centre for visitors' use.
For more information please call us: 03 5259136 or email
Golden Bay - Come, Stay, Play
Come, Stay, Play.... in Golden Bay
A taste of some of the amazing places to visit in Golden Bay this winter
Waitapu Bridge Recreational Site
Waitapu Bridge recreational site has been removed from the Freedom Camping Bylaw. The site is being managed by Waka Kotahi NZ Transport Agency in partnership with Manawhenua ki Mohua.
To protect this culturally significant site and for health and safety concerns, there is no overnight camping.
If you are looking to camp, there are a number of friendly camping parks in Golden Bay, which provide affordable camping options and would welcome your visit.
Contact the Golden Bay Visitor Centre in Takaka -- phone +64 3 525 9136 or visit www.goldenbaynz.co.nz
Golden Bay - Richie McCaw's Top Spot
Come, Stay, Play.... in Golden Bay