Golden Bay Gems
Discover the beauty of Golden Bay
With only one road in, this piece of paradise is well worth the drive over Takaka Hill. Your first glimpse of Golden Bay will take your breath away as you travel over the Marble Mountain, with limestone outcrops, and sweeping views overlooking green dairy pastures, down into the valley offering sandy golden beaches, rivers plentiful for fishing or relaxing by, native bush, caves and natural springs. Golden Bay, Mohua is one of New Zealand's best kept secrets.
Wainui Bay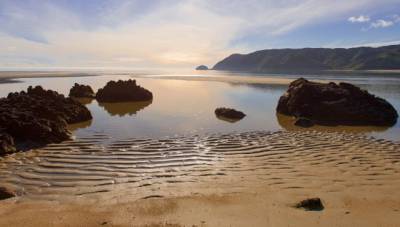 Wainui Bay marks the start of the Abel Tasman National Park and is bursting with beauty, also offering multiple walking tracks, including the short hikes to Wainui Falls, or out to Taupo Point.
Wharariki Beach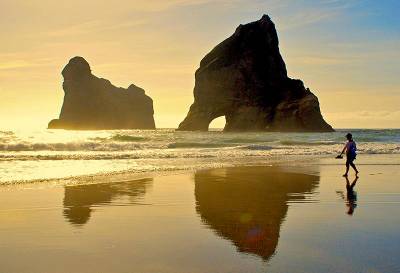 Wharariki is not a safe swimming beach, with its strong currents and wild seas. But it is a fantastic place to spend a day, running down the huge sand dunes, exploring the caves, and at the right time of year you can watch baby seals splashing in the rock pools.
Labyrinth Rocks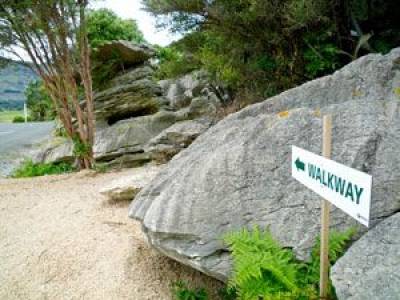 Up to 1-hour, easy walk.
Just 2km from Tākaka township on the way to Pōhara, this natural maze of paths through karst limestone rock formations and native bush is perfect for little kids. They can go on a scavenger hunt of sorts, as there are toys and figurines placed in nooks and crannies along the way for them to find. Pick up a map at the entrance or let yourself get a little lost; you can spend as little or as long as you like in here. Perfect for if you'd like a little stroll.
Te Waikoropupu Springs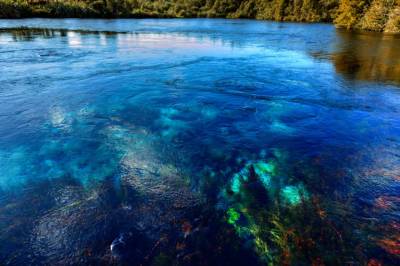 45min loop, easy walk, suitable for prams and wheelchairs.
Just 7km from Tākaka township, you will find one of Golden Bay's most beautiful taonga (treasures). Te Waikoropupū Springs are New Zealand's largest freshwater springs and the largest coldwater springs in the Southern Hemisphere. Feast your eyes on the clearest water you've ever seen, bubbling out of the earth at 14,000 litres per second, dancing with light to create shimmering turquoise hues.
Clifton Cemetery and Reserve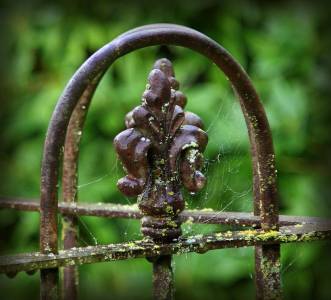 5 min to cemetery, with option for longer walk back to Pōhara beach.
A peaceful and shady place for a wander and picnic, perfect for small children. This historic cemetery is a site of great significance for Māori and Pakeha, with upwards of 150 people buried in both marked and unmarked graves, in amongst the trees. Located at the western end of a low-lying sandspit across the Motupipi Estuary, the council reserve is also home to the Tākaka Golf Course, with a walking/cycle trail.
The Grove Scenic Reserve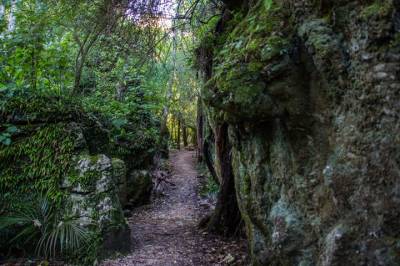 20 min to lookout, easy to moderate loop walk.
On your way to Pōhara, turn right onto Clifton Road and follow the signs to the scenic reserve, with a carpark, picnic area and toilet. Step out of time and into a peaceful fairy forest of towering nīkau palms,statuesque northern rātātrees seemingly dripping roots down limestone rocks and water-formed ancient canyons. Follow the path one of two ways to reach a towering outcrop and lookout jutting from the rock face, overlooking farmland and sea.
Salisbury Falls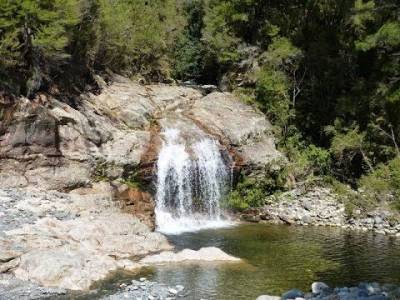 Easy 5 min walk.
Drive 30 min inland from Collingwood towards the Heaphy Track, stopping to grab a coffee and cake at the historic Langford Store,then follow the signs to this little gem. Park on the side of the road, cross a fence stile or two, and within minutes you are at the cascading waterfall and its inviting swimming hole. Just down from the falls is the Aorere River, with its deep waters and interesting rock formations forming a stunning gorge
Milnthorpe Scenic Reserve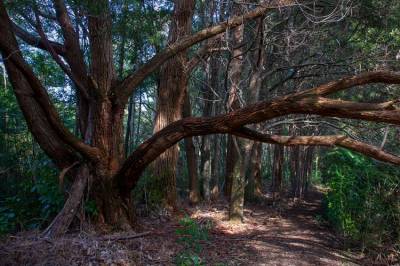 Easy walk, from 5 min to 3 hours.
Suitable for the whole family plus the dog (kept under control), there are multiple access points to these sprawling trails through regenerating forest, swamps and lagoons, all fringed by a peaceful beach and estuary. Pick up a map from one of the boxes, make a donation if you are able, and consider returning the map for others once you are finished. The tracks are mostly flat with a few rises and tree roots,they are not not suitable for wheelchairs or prams.
Wainui Falls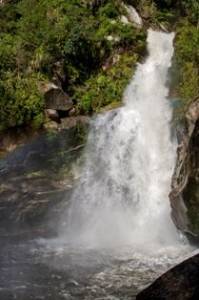 30 min, easy to moderate walk to waterfall, 1-hour return trip.
Look for the signposted carpark in Wainui Bay, 20km northeast of Takaka. You will cross a short section of farmland (and one unbridged stream crossing) before entering a forest of nīkau palms, rātā trees and ferns. Winding up the Wainui river in a steady but accessible climb, you will cross a swingbridge over the river just before reaching the waterfall. Keep children close by due to steep drops.
The Cobb Valley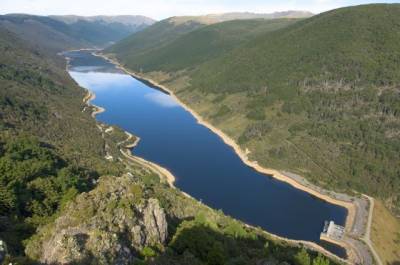 Moderate to expert walks, from 2 hours one way, up to multi-day walks.
The Cobb River and its glacial valley are nestled in the Kahurangi National Park. From the Golden Bay side of the Tākaka Hill, a narrow 28km road leads up to the Cobb Reservoir (4WD recommended in winter, check for any road closures in bad weather). From the reservoir and lookout, you can drive down to the end of the road at Trilobite Hut and nearby campsite. A multitude of walks are on offer from there.