Boating and Fishing
Come and throw your line to catch a trout or take a fishing charter to catch a snapper for dinner. Take a boat trip and enjoy some beautiful scenery along Golden Bay's coastline.
General Boating & Fishing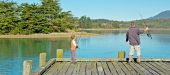 Golden Bay has the best scallop beds in New Zealand & a growing mussel industry. The scallops are fished by towing dredges along the seabed with both recreational & commercial fishers enjoying a bountiful harvest.
The Challenger Scallop Enhancement Company is a privately owned fishing company that gathers scallop spat on artificial collectors (spat are tiny infant shellfish) which are released onto the shellfish beds.
BOATING AND FISHING:

Wildcat Fishing Charters & Motel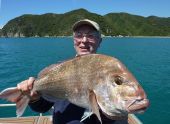 Keep your catch, or Catch & Release it's up to you.
Fishing trips for small groups from Golden Bay all year round.
Don't worry if you're a novice angler because you get one to one guidance from Leigh on how to catch your fish. All bait, quality fishing gear & refreshments supplied free onboard.
You don't even have to get your hands wet if you don't want to! Catch your fish and Leigh will do rest for you!
Nelson Area General Fishing Rules