Collingwood to Farewell Spit & Mangarakau
Collingwood to Farewell Spit & Mangarakau
Collingwood to Farewell Spit & Mangarakau, experience white sand dunes, wild beaches, seabirds, migratory and native waders, picturesque lakes surrounded by nikau palms.
Farewell Spit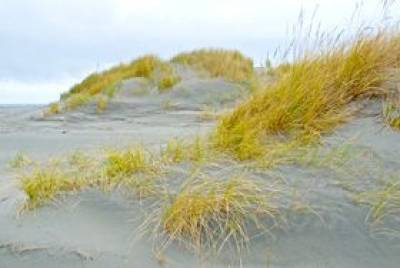 New Zealand's longest sandspit stretches from Fossil Point, 1.6km east of Puponga, for 35km across the entrance to Golden Bay, the breakwater for a safe all weather anchorage.
The spit is formed entirely from sand, derived from the erosion of granites, schists and other rocks on the West Coast, which is transported northwards by coastal drift and is gradually filling Golden Bay from the north.
COLLINGWOOD TO FAREWELL SPIT & MANGARAKAU:

Mangarakau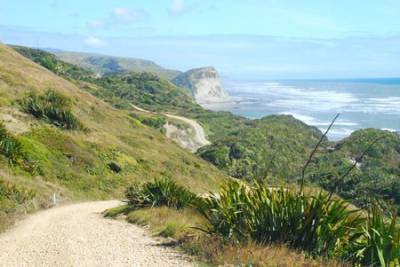 Beyond Westhaven there are manuka moorlands to the left, high bluffs to the right. Suddenly there is a scatter of houses, and you are in Mangarakau.
In earlier times there were sawmills and a coal mine but these are gone and the village has shrunk accordingly. However, life is returning to these distant parts. Once prized and exploited for its timber, flax and coal, Mangarakau is now known for its conservation estate; especially the Mangarakau Swamp; the largest wetland in the Nelson Region.
COLLINGWOOD TO FAREWELL SPIT & MANGARAKAU: MANGARAKAU

Farewell Spit History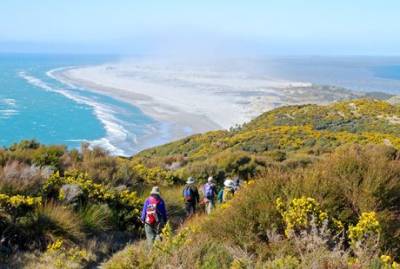 Cape Farewell and Farewell Spit were noted by Tasman in 1642 and named by Cook when he left New Zealand in 1770.
The first lighthouse on this unusually interesting site was finished in 1870. In those days, much of the spit was invisible to ships at high tide, so one keeper, Mr Harwood, brought back two saddle bags of soil on each of his trips for supplies.
The macrocarpas and pines he planted form an oasis which is conspicuous seaward and is almost as valuable as the light itself.
COLLINGWOOD TO FAREWELL SPIT & MANGARAKAU:

Main Features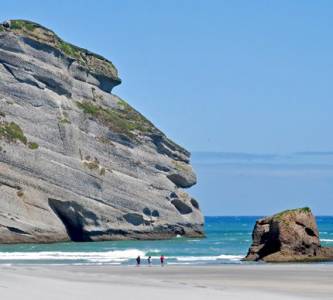 Farewell Spit
is New Zealand's longest sandspit, stretching for 35 kilometres. Onetahua is the Maori name for Farewell Spit and translated means "heaped up sand". The spit is formed from shifting sand dunes up to 20 metres high. Farewell Spit is a Nature Reserve and access is restricted. Free public walking access is permitted at the base of the spit, for a distance of 2.5 kilometres down the inner beach, or 4 kilometres down the outer beach. Supervised tours take you further.
COLLINGWOOD TO FAREWELL SPIT & MANGARAKAU:

Westhaven Inlet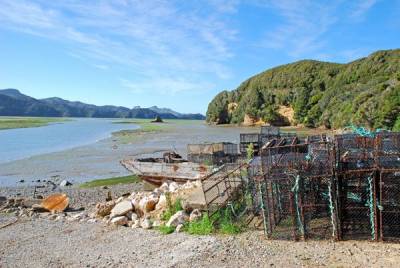 One of the highlights of a holiday in Golden Bay has to be the drive along the edge of the vast estuary known as Westhaven, or Whanganui Inlet.
This is the second-largest estuary in the South Island and as well as being a beautiful landscape it is an important fishing and wildlife area.
COLLINGWOOD TO FAREWELL SPIT & MANGARAKAU:

Bird Life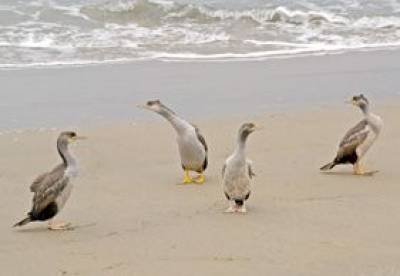 Over 112 species of bird have been recorded from the spit, many make use of the shallow tidal waters.
Most spectacular are the 20 odd species of migrant wading birds, which visit in huge numbers.
Up to 27 thousand birds belonging to a single species have been recorded.
COLLINGWOOD TO FAREWELL SPIT & MANGARAKAU: