Golden Bays Maori History & Culture
Golden Bays Maori History & Culture
It is difficult to date accurately the arrival of Maori in Golden Bay (or Mohua, to give the district its old Maori name) but is likely to have been from the earliest times. Some of the place names and legends of Golden Bay are ancient, and derive from the Hawaikian Polynesian roots of the ancestral Maori.
Maori History & Culture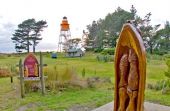 For example the names Takaka and Motueka have probably persisted for centuries as place names in the district; Ta'a'a and Motue'a are a few miles apart on the island of Raiatea in the Tahitian group, believed to be the Hawaiki of several of the "Fleet Canoes" of the Maori migrations. A legend about a taniwha (monster) called Kaiwhakaruaki which was once the scourge of Parapara Inlet, has local variants in several other districts of New Zealand, and is found throughout Polynesia.
Maori History & Culture cont..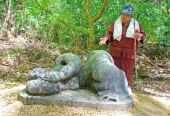 It was at the hands of Tumatakokiri, the tribe which was in occupation at the time, that four of Abel Tasman's men met their death. Several theories have been advanced to explain this tragedy that Tasman's men had unwittingly rowed into waters which were tapu (sacred) or had a rahui (ban) placed on them; that these strange white men in strange ships with strange ways (dress, muskets etc.) were taniwha who had to be chased away.
Onetahua Marae

Established in 1986, Onetahua Marae in Pohara is used by the whole community for tangi, hui and wananga (educational base).
It is the home marae for three local iwi: Ngati Rarua, Ngati Tama, and Te Atiawa, but it operates as a multicultural marae with the wider involvement of the whole community. The protocol (kawa) there is Taranaki.
"Onetahua" is the Maori name for Farewell Spit and translated means "heaped up sand".