Takaka to Collingwood
Takaka to Collingwood
Beach settlements are located at the end of every right turn. Onekaka is mid-way and is a favourite with locals and visitors.
Parapara and Tukurua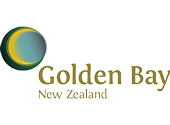 A fast developing area of life-style blocks and home businesses, a concentration of artists, crafts-folk, and gardens.
There are accommodation options along this stretch of coast to suit anybody's requirement.
Parapara Beach is a 10 minute drive southeast of Collingwood. At the peak Christmas-New Year period the beach has between 50 and 100 visitors a day.
Milnthorpe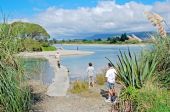 This is another of those places which doesn't look anything special from the highway, but a leisurely exploration down a side road reveals unsuspected pleasures. Turn down the road marked "Milnthorpe Quay" and you soon find yourself at the old wharf (hopefully to be repaired) with a fine view of the estuary.
Rototai, Rangihaeata and Patons Rock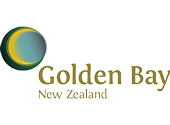 A short scenic loop road from either side of Takaka takes you past the Rototai settlement hidden between the estuaries of the Motupipi and Waitapu rivers.
The estuaries, sand spits and beaches provide ideal environments for an interesting variety of birdlife, including caspian terns, pied oystercatchers, spoonbills and the usually solitary but majestic, white heron.
People of the Past - Onekaka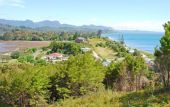 The tiny settlement of Onekaka was once a major industrial area. In the 1920s and 1930s local iron ore was turned into pig-iron and iron pipes at the Onekaka Ironworks and shipped from Onekaka wharf.
Between 1922 and 1935, a total of 81,499 tons of iron, valued at nearly 210,000 pounds, were produced, with up to 180 men being employed. A hydro-electric dam and plant were built in 1929 to provide power for the pipe-making operation.
Te Waikoropupu Springs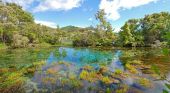 The water from Te Waikoropupu Springs is slightly salty because of seawater intrusion.
There are three large freshwater springs a few kilometres offshore at depths of 12 to14 metres. It is thought that these are part of the limestone water system, and as freshwater flows out, some seawater is drawn into the vents, finding its way to the main vent at Pupu.
It is most important to protect the springs from didymo.
Onekaka

This tiny settlement was once a major industrial area.
In the 1920s and 30s local iron ore was turned into pig-iron and iron pipes at the Onekaka Ironworks.
Most of the plant has now been demolished but the last remaining evidence of this optimistic endeavours is also the easiest to get to. Turn down Washbourn Road, drive a short distance to the beach and before you know it you are at the ruins of the Ironworks Wharf.