Golden Bay Treasure Hunt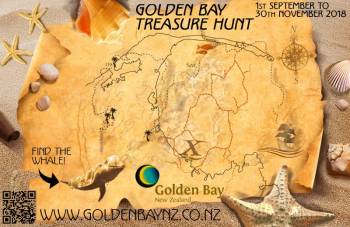 Find the hidden whale...
Whatever you enjoy most about Golden Bay you can experience whilst adventuring on our great Treasure Hunt.
Find the hidden whale in the latest Golden Bay Visitor Guide. Go to the place where the whale is hidden. Take a selfie at The Legend of Huriawa.
At the same time answer this question: "Who is the protective guardian of this place?"
Go to the Golden Bay Visitor Centre with your selfie and the answer. Here you will get your entry form and the next clue. Good Luck!
There are also "spot prize" options along the journey, so keep an eye out on our Facebook Page for tips, hints or more clues, to grab these great prizes.
A huge thank you to all our Sponsors for their generous donations
Competition runs between 1st September to 30 November 2018